documentary performance / Mark Požlep
»Going around Manhattan with Vinetou.«
* Due to strong effects we recommend people with epilepsy, heart problems and asthma not to attend the performance. 
Premiere
11. November 2018 /Gledališče Glej /
Premiera / Glej, in English.
Gallery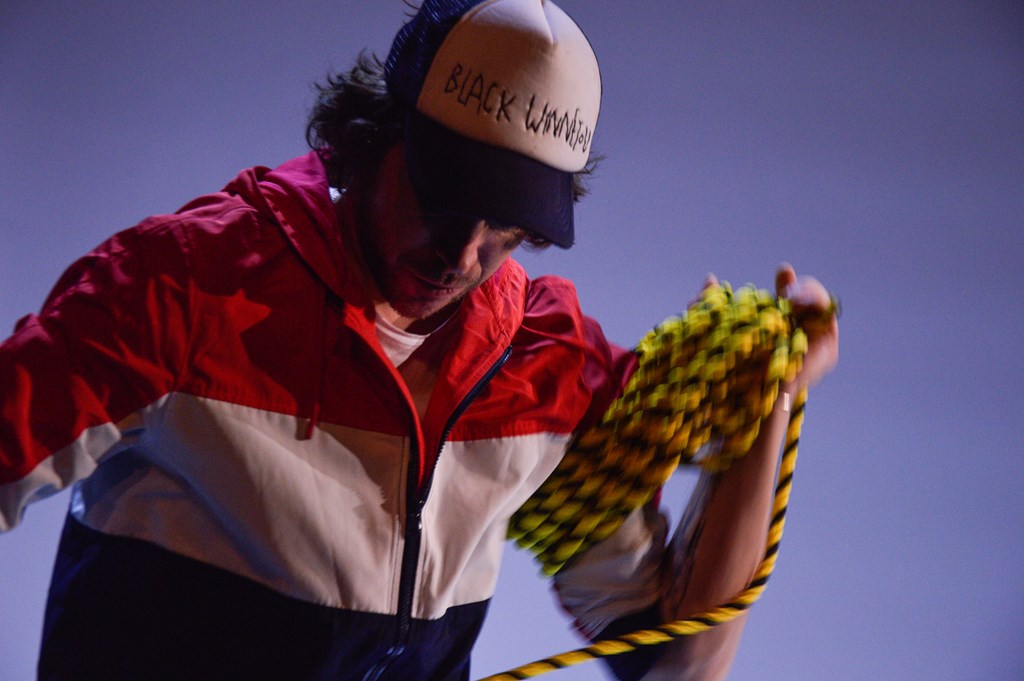 About the performance
Mark Požlep first performed Blueprint for Revolution in New York 2017, when he did a circular navigation around the island of Manhattan in a canoe. One of main goals of the project was to explore human reconciliation trough conflicting notions of freedom. By the physical act of sailing, he activated ideas of fantasy, discovery, conquest, and survival by confronting the island's overwhelming capitalist system. In this performance his aims to nuance relationships with history, current political state of affairs, and social complexities of the island based on the dialogues he had with descendants of Native inhabitants of Manhattan.
Mark began his American adventure with Vinetou, a fictional hero, devised by Karl May. Through May's books and mostly German-Yugoslavian film production, Vinetou became a symbol of an indigenous tribe for entire generations, that grew up behind the Iron curtain. An image of a tribe that never really existed. What is the reality of colonized indigenous populations in North America? What have they endured, so that the white American myth of freedom, that only really exists for the selected few, could be built? How are they resisting the rule of Capital today, when their land is no longer plundered by railway, but by pipelines? And what is the role of all of us, who grew up with nostalgic vision of a noble savage, without really establishing critical distance towards the colonial context of United States and Karl May's writing? 
In his latest project, Mark Požlep is continuing his research into Yugoslavian nostalgia and is mercilessly drawing a blueprint for some other revolution.
Credits
Glej, Blueprint for Revolution
documentary performance / Mark Požlep
Performers: Mark Požlep, Gašper Piano
Author / Scenography: Mark Požlep
Translation and Adaptation: Jure Novak
Dramaturge: Diane Fourdrignier
Music: Gašper Piano 
Head of the Technical Team and Light Design: Grega Mohorčič
Executive producer: Barbara Poček
Produced by: Gledališče Glej
Coproducer: Contour Bienniale 9: Coltan as Cotton, Mechelen, Belgium
Coproducer: HISK, Higher Institute for Fine Arts, Gent