News
Short film, that was produced within this project, was selected for Aesthetica Short Film Festival, a BAFTA qualifying festival. 
More about the project
ID: BABYLON is a theatre project exploring the experiences of teenagers across Europe. It began in late 2018 with anthropological research in the form of conversations and interviews with young people with experience of migration and from a broad range of backgrounds. The interests, hopes and fears they discussed will form the basis of the work produced.
A group of young people in each of the partner countries will make and perform an artistic work which will tour in its 'home' country and to one other partner country. All the works will also feature in a Youth theatre festival at Théâtre du Pélican – in Clermont-Ferrand, France. A piece of documentary theatre written by professional playwright Nadège Prugnard, with six of the young people will be created in the second phase of the project and will tour internationally. It will feature a cast of young people from each partner country. In addition, a digital exhibition documenting and celebrating the whole project will be created and widely disseminated.
The project partners formed ID: BABYLON in response to issues impacting teenagers today, including the rise of extremism and nationalism and issues around migration and the movement of people. Our vision for the project is the development of transnational identity and values and a sense of European citizenship for young people, which will help them to look beyond the borders of their origin.
Official webpage of ID: BABYLON: https://www.thealbany.org.uk/projects/id-babylon/
Archived official webpage: https://idbabylon.eu/
Gallery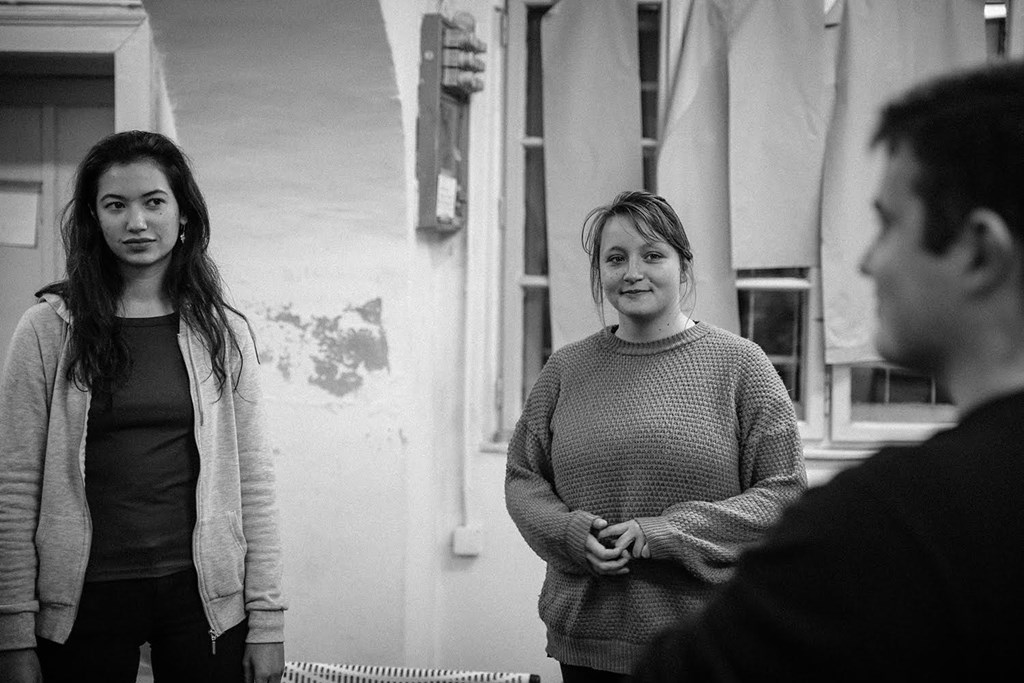 Partners
The project is being delivered by the following partner theatre companies and arts venues in the following countries:
Project Coordinator
Théâtre du Pélican, France
The company works on artistic projects with young people. Their focus is creative projects for and by young people exploring identity and citizenship. They support young people to understand what they have in common across different communities. Théâtre du Pélican work with over 200 young people each year and with a cohort of volunteers. The diversity of their origins and their enthusiastic commitment is the hallmark of all their artistic creations.
Project Partners 
Das Letzte Kleinod, Germany
Award-winning international ensemble, Das Letzte Kleinod develop performances based on oral history and realise projects with young people of different ages. Their focus is documentary theatre related to places, people and their stories. In the last years they've focussed on working with young refugees and migrants to put their stories on stage. The visual character of the productions makes the work accessible in different cultural contexts.
delleAli teatro, Italy

delleAli teatro was founded in 1996 by an interdisciplinary group of actors and animators to investigate the influences between the different forms of expression. They work across public sector organisations, with schools and individual citizens to build a shared approach to culture. They make socially engaged community and youth theatre and projects offering a broad range of theatrical productions, educational activities, readings, workshop and festivals.
SNT Nova Gorica, Slovenia
 The Amateur Youth Stage (AMO) has been operating under the patronage of the SNT Nova Gorica (SNG) since 1977. Their performances for children and young people complement the theatre's programme and offer the chance for gifted young people to develop their artistic talents. Currently, the Amateur Youth Stage is led by dramaturg, Tereza Gregorič. Its programme is deliberately diverse, so that the young members can get acquainted with different types of theatre and performing techniques.
Glej Theatre, Slovenia
Established in 1970, Glej Theatre is the oldest independent performing arts venue in Ljubljana. It has always played an important role in the making of the Slovene theatre scene. It remains a place open to unorthodox approaches and theatrical research and focuses mainly on the upcoming generations of artists. Besides numerous co-productions with Slovene and international organisations, Glej Theatre strives to develop fresh and innovative programmes to support young emerging artists.
The Albany, UK
The Albany is an arts centre based in South East London with a history embedded in the diverse local community, and driven by the cultural diversity and creative mix of the area. They have numerous performance spaces across three venues where they programme, commission and share work across many artforms. They run a range of participation projects for all ages, across genres, and in many different communities - working with people from a vast range of backgrounds.
Associated countries:
Hungary, Poland, Latvia, Czech Republic, Netherlands and Croatia.
This project has been funded with support from the European Commission, Creative Europe Culture programme.
This communication reflects the views only of the author, and the Commission cannot be held responsible for any use which may be made of the information contained therein.