An Epic Solo Horror Musical in Three Acts / Bence Mezei
Premiere
05. May 2022 / Križevniška 2 /
PREMIERA / Glej, in English
Gallery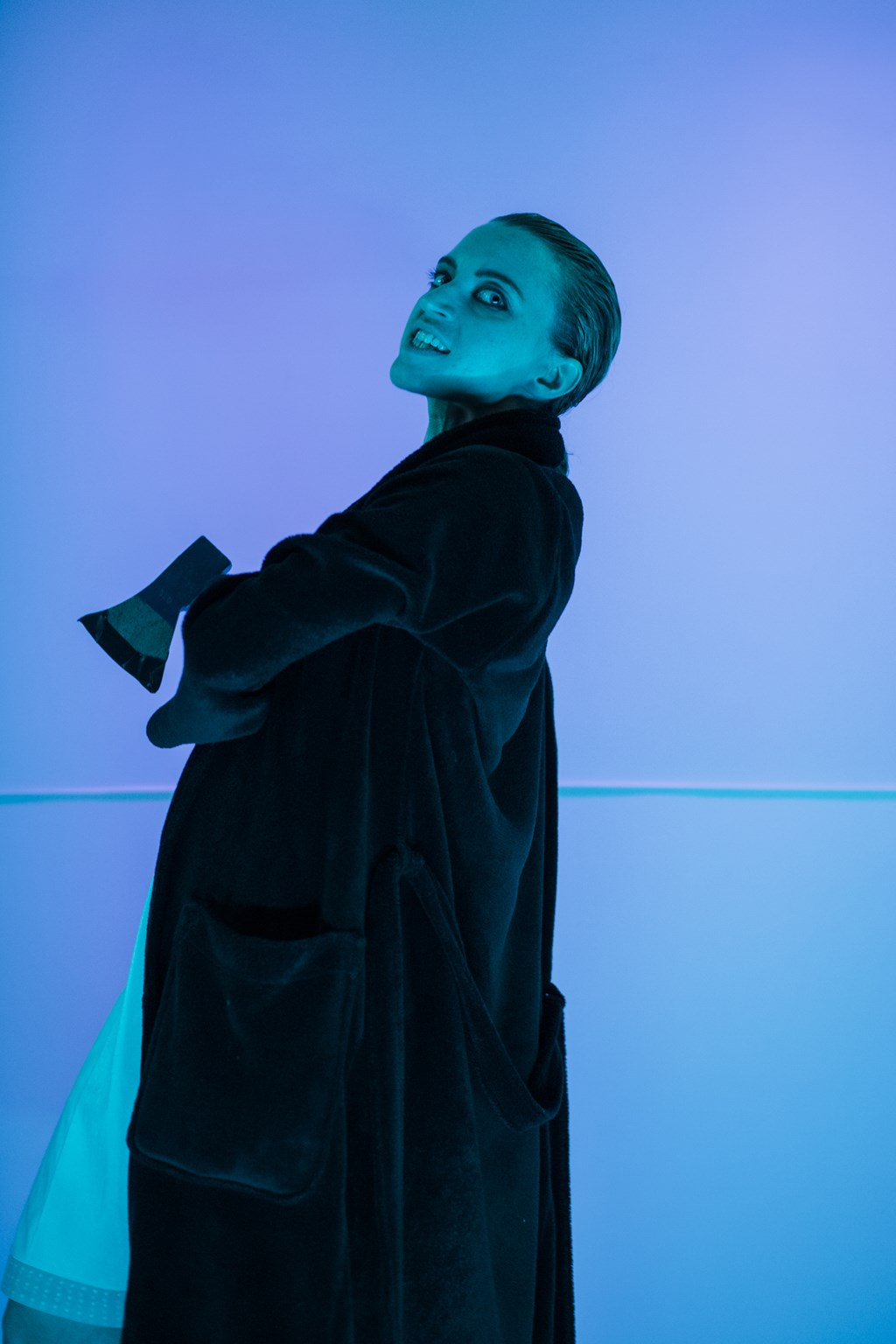 About the performance
DRACULA AND THE GIRL AND THE GLOOMY FOREST is an outrageous ode written on the erratic nature of art making. It is an energetic solo performance of an epic size, magnifying the ordinary, the ups and downs of every days, in which it was created.
In this performance, Bence Mezei explores and interweaves the popular formats of contemporary dance, horror film, musical theater and epic poetry, to generate a poetic and at the same time ridiculous narrative about the romantic but often horrifying landscape stretching before the individual at work. Through the restrictions of the narrative form, horror genre, fairy tale and musical theater, the performance tells the turbulent tale of the lonesome Dracula.
Dracula is a bloodthirsty vampire who, as a wannabe playwright, sets on a journey to pitch his script and find friends in the Town's Theater. As his path leads through the Gloomy Forest, where the Headless Ghost, - a suicidal actor, who just couldn't continue - haunts, he meets the disillusioned Girl, an ex-dancer, working at a film production. Here begins a tale of their quest for artistic function, happiness and love, their struggles with work and life, their encounter and ultimate death.
Drawing the line somewhere between the trivial and genuine, amateur and professional, the performance records the struggles of everyday life and work, and through a forest of inner conflicts - expectations, dreams, doubts and wishes, - it searches for the possibilities of a release: a way out of the crisis.
Credits

Text and Direction: Bence Mezei
Performed by: Ida Hellsten
Light Design: Leon Curk
Rehearsal Assistant: Nohemi Barriuso
Poster Design: Ágnes Mezei
Production Support: Barbara Poček, Glej Theatre
Public Relations: Tjaša Pureber, Glej Theatre (until Autumn 2022)
Production: Glej Theatre and Bence Mezei
Support: Municipality of Ljubljana