devised preformance / The Affluent Drag Ensemble collective with co-workers
Premiere
26. April 2021 /Gledališče Glej /
premiera / razprodano
Gallery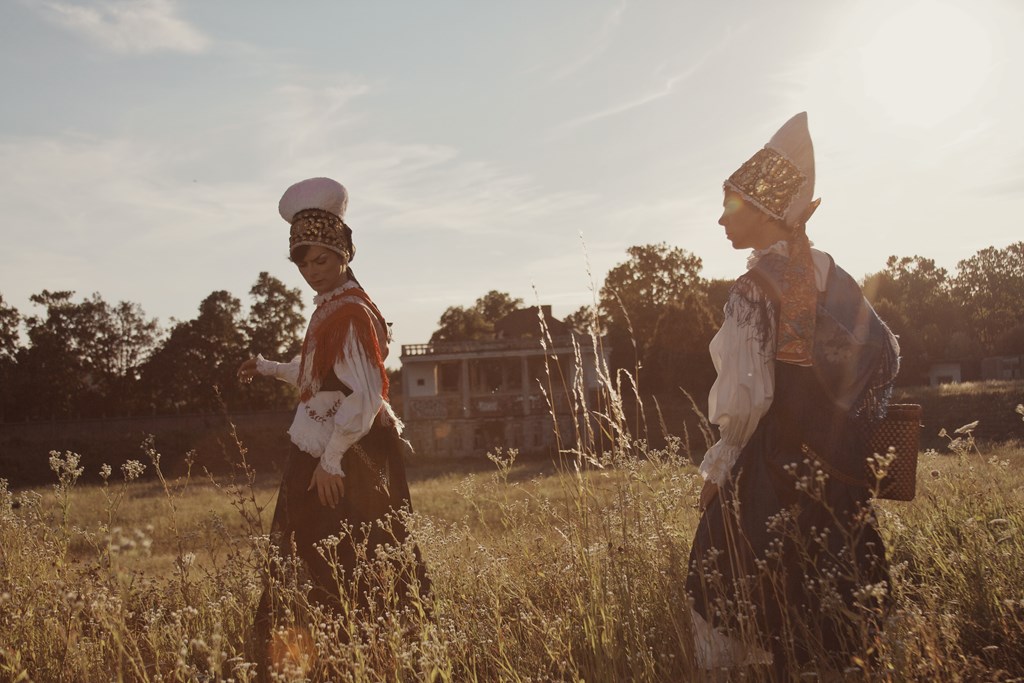 About the performance 
Citizens Dragana and Dragica travelled in 2020. Through the cycling protests, through the points of establishing a new statehood, through the key symbols of Sloveneness. Dressed in national costumes singing those old, good, popular tunes. He who sings does not think badly. The longer they walked, the more they wished they were not so much a citizen, but rather a resident. Now they have arrived at the theatre. It's time for the Jubilee.
What builds and what disintegrates a nation? Who are we and where are we going? What is our identity and how do we transcend it? Is that even possible? Desired? Urgent? In this process, how do we build a relationship with ourselves, with each other and with everything that defines us? How to get rid of the weight of symbols? Is it possible to wash away the sins of the state through symbolic decomposition? What is our alternative? Where do we find freedom? What lies beyond nation, state, humanity? And where in the flood of hard populism is there room for radical tenderness as a point of ultimate resistance to all forms of oppression?
You are invited to attend the jubilee natural and social studies. An affluent, but urgent lesson.  
Credits
Concept, direction and scenography: The Affluent Drag Ensemble (ADE) (Rok Kravanja, Daniel Petković, Urban Belina and Ajda Tomazin)
Dramaturgy: Urban Belina and Jasmina Založnik
Performers: Rok Kravanja and Daniel Petković
Sound design: Amolab (Evano, The Humble Bee)
Technical direction: Grega Mohorčič, Brina Ivanetič (Glej Theatre) and Andrej Firm (Moment)
Technical support: Simon Bezek and Žan Rantaša
Photography: Ajda Tomazin, Ivian Kan Mujezinović and Borut Bučinel
Mask design for promotional photos: Tina Prpar
Documentary video: Borut Bučinel
Sound design for documentary video: Ajda Tomazin
Poster and programme booklet design: Mina Fina and Ivian Kan Mujezinović / Grupa Ee
Editor of the programme booklet: Tery Žeželj
Public relations: Tjaša Pureber (Glej Theatre) and Maša Stošič (Moment)
Producers: Anja Pirnat (Glej Theatre) and Nika Bezeljak (Moment)
Partners: Glej Theatre and Moment in cooperation with the Odprti predali Institute
Co-financed by: Ministry of Culture, Municipality of Ljubljana and Municipality of Maribor
We would like to thank: Daja and Rado Kravanja, Ljubljana Puppet Theatre and Andreja Kovač
Gallery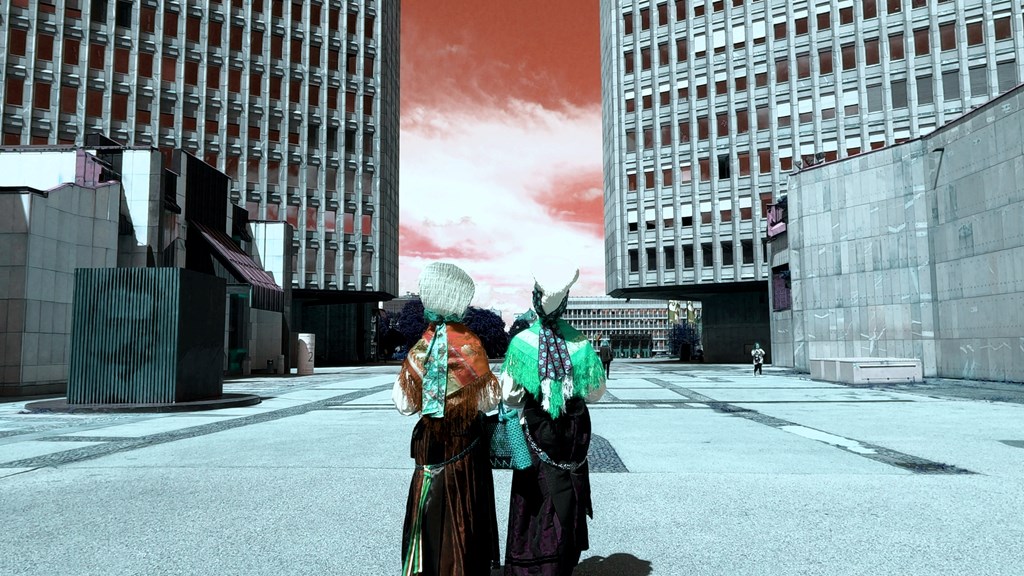 Citizens (2020)
 "It always protects, always trusts, always hopes, always perseveres; love never fails." Dragica and Dragana 
Artivistically oriented tactics that address current pressing socio-political issues are implemented in the form of unannounced artistic interventions in public space and protest actions. In doing so, we test the power of various performative tactics, which are based on the spirit of Ljubljana's alternative scene from the 1980s, and adapt their use to the context of neoliberal decay and supervisory capitalism.
Credits Citizens (2020)
Authors: En drag ansambel (Rok Kravanja, Daniel Petković, Urban Belina and Ajda Tomazin)
Performers: two Upper Carniolan national costumes, Rok Kravanja and Daniel Petković
Dramaturgical consulting and selection of locations: Urban Belina and Jasmina Založnik
Video and photo: Ajda Tomazin
Mask design: Tina Prprar
Singing lessons: Alenja Pivko Kneževič
Producers: Anja Pirnat (Glej Theatre) and Nika Bezeljak (Moment)
Partners: Glej Theatre and Moment in cooperation with the Odprti predali Institute
Co-financed by: Ministry of Culture, Municipality of Ljubljana and Municipality of Maribor
Video