devised performance
Premiere
06. September 2021 /Gledališče Glej /
gostujeta prejemnika Forced Entertainement Award 2020 Bertrand Lesca in Nasi Voutsas / Glej, in English / RAZPRODANO
Gallery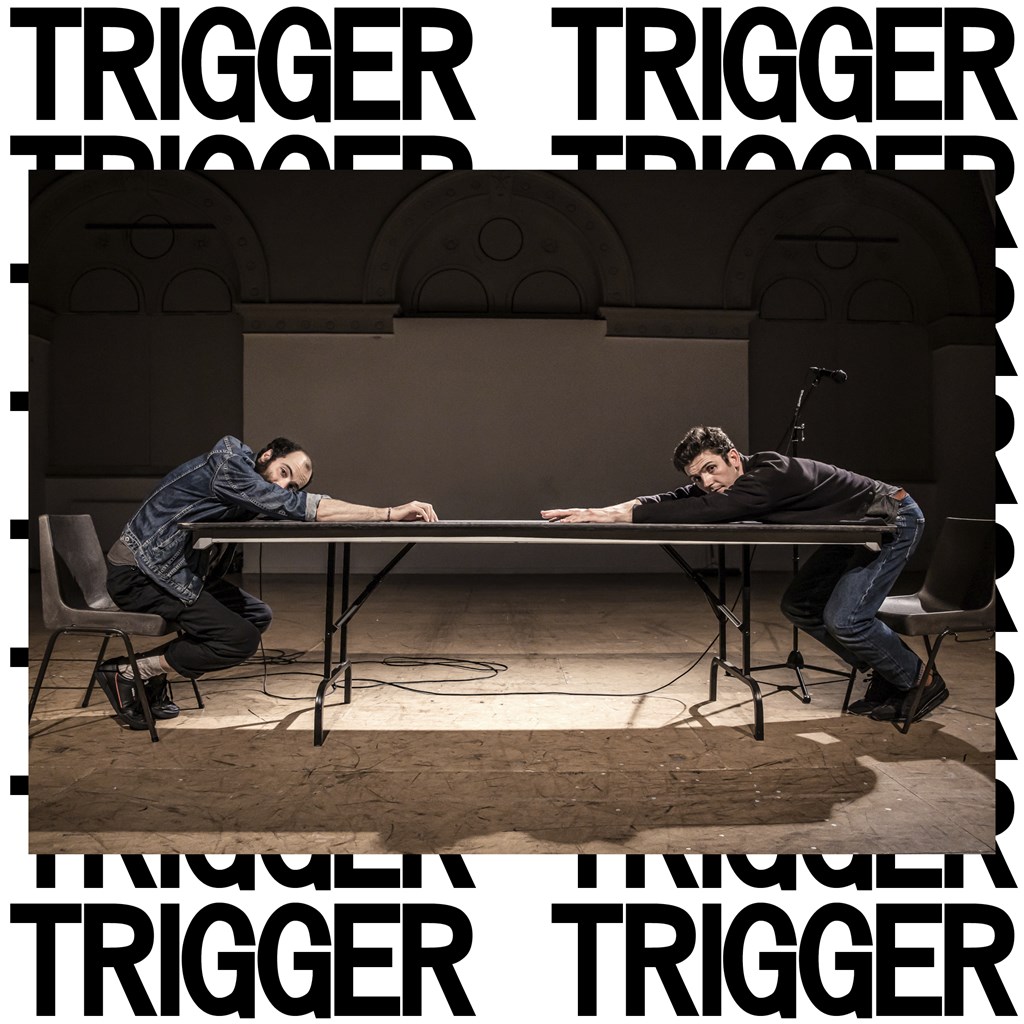 Bertrand Lesca and Nasi Voutsas are the receivers of last year's Forced Entertainment Award and beloved by the festival audiences worldwide. Their artistic expression can be summed into "Political is personal and personal is political." War in Syria, global ecological catastrophe, migrations within the Fortress Europe. There is no conflict big enough not to be able to be transformed into a struggle between two performers. Bertrand and Nasi address divisions, love, frustration, hatred and reconciliation with humor. On the stage, we can see all the paradoxes of political crisis that we are living, as they ask us how we can overcome them. They are known as one of the most exciting performers of their generation in Europe, who are redefining what political theatre means. 
We are happy that we are bringing them to Ljubljana and Maribor within our TRIGGER international platform. TRIGGER is developed in partnership with Moment, Bunker, City of Women, Pekinpah, Mladinsko Theatre and Maska (The New Post Office programme) and in co-production with Centre for Creativity. 
About the performance
PALMYRA is an exploration of revenge, the politics of destruction and what we consider to be barbaric, inviting people to step back from the news and look at what lies beneath, and beyond, civilization.
"weird, wonderful and strangely stressful" The Stage
**** The Stage, Guardian, The Times
The ancient city of Palmyra was one of the best preserved in the world. Tourists flocked from around the world to look at the iconic temples of Bel and Baalshamin, as well as the Arch of Triumph. Until 2015, when ISIS gained control of the city, destroyed its temples, looted its graves and used its amphitheatre to stage executions.
A year later, after ISIS had been removed from the city, a concert entitled, "With a Prayer from Palmyra: Music Revives the Ancient Walls", was staged on the site. In his opening statement prior to the concert the former lead conductor of the London Symphony Orchestra, Valery Gergiev, said: Here on this great stage, our concert in Palmyra is our appeal for everyone to come to peace and unity, to unite and work against this evil, against terrorism. (...) We protest against barbarians who destroyed wonderful monuments of world culture. We protest against the execution of people here on this great stage.
This is where the piece started.
WINNER Total Theatre Award for Innovation, Experimentation & Playing with Form 2017
WINNER Stockholm Fringe Festival 2017 Grand Prix
WINNER Jury Prize, FITT Festival Tarragona 2018
Developed with support from CroquisBCN (Barcelona), Bristol Ferment, MAYK, Tobacco Factory Theatres, Nuffield Southampton Theatres, Ovalhouse, HOME and Arts Council England.
Credits
Created and performed by Bertrand Lesca and Nasi Voutsas
Dramaturg: Louise Stephens
Lighting Design: Jo Palmer
Show image: Ollie Baxter
Produced by Edward Fortes & Hannah Slimmon for Farnham Maltings
About the authors
Bertrand Lesca and Nasi Voutsas (France/UK) are the creators of a trilogy of work on contemporary questions: EUROHOUSE (2016), PALMYRA (2017) and ONE (2019). 
Bertrand Lesca and Nasi Voutsas have developed a strong reputation worldwide for making original, political theatre. Creating work in an age of austerity, and about austerity, our work is stripped right back and sits somewhere between live art and theatre. Using humour and the dynamics of our onstage relationship, we undercut and explore the darker aspects of contemporary subjects in work that questions both our own – and the audience's – role as 'active' spectators in global conflicts. Some of our core principles involve: being aggressively simple, a strong sense of humour and play, an aim to push, provoke, search, excite and incite; never being boring without being thrilling; never being thrilling for the sake of a thrill; everything understood and everything mapped out.
This trilogy of work tackles complex political or social questions – Greece's relationship with the EU; the Syrian crisis; the rise of the ultra right – into an accessible, immediate form. Using humour and the dynamics of their onstage relationship, Bert and Nasi undercut and explore the darker aspects of contemporary subjects in work questions both their own – and the audience's – role as 'active' spectators in global conflicts. 
More recently, Bert and Nasi presented THE END, a dance piece exploring the breakdown of their own working relationship set against the backdrop of an imminent climate catastrophe. 
Produced by Farnham Maltings and associate artists with MAYK, their shows have been presented across the world, from London to Madrid, Berlin to Sarajevo, Brazil, Canada and Australia and the US. 
In the media 
"A brilliant piece that reflects on Syria and the breakdown of relationships."
★★★★ Lyn Gardner, The Guardian 
"Startlingly effective: jagged, knockabout fun with a decidedly sharp edge." 
★★★★ The Times 
"Beguiles and unsettles simultaneously … performed with extraordinary physical power and dexterity … A highly gifted enterprise."
★★★★ The Independent
"Weird, wonderful and strangely stressful."
★★★★ The Stage
TRIGGER 2021 is a part of a partnership network Platform Center for Creativity. Platform Center for Creativity is co-financed by European Union from European Regional Development Fund and by Republic of Slovenia.

TRIGGER platform is also supported by Ministry of Public Administration, Ministry of Culture and Municipality of Ljubljana.