original youth performance / Future = NOW! A Youth Manifesto
Premiere
24. November 2022 / Gledališče Glej /
festival Generacija generaciji / RAZPRODANO
Gallery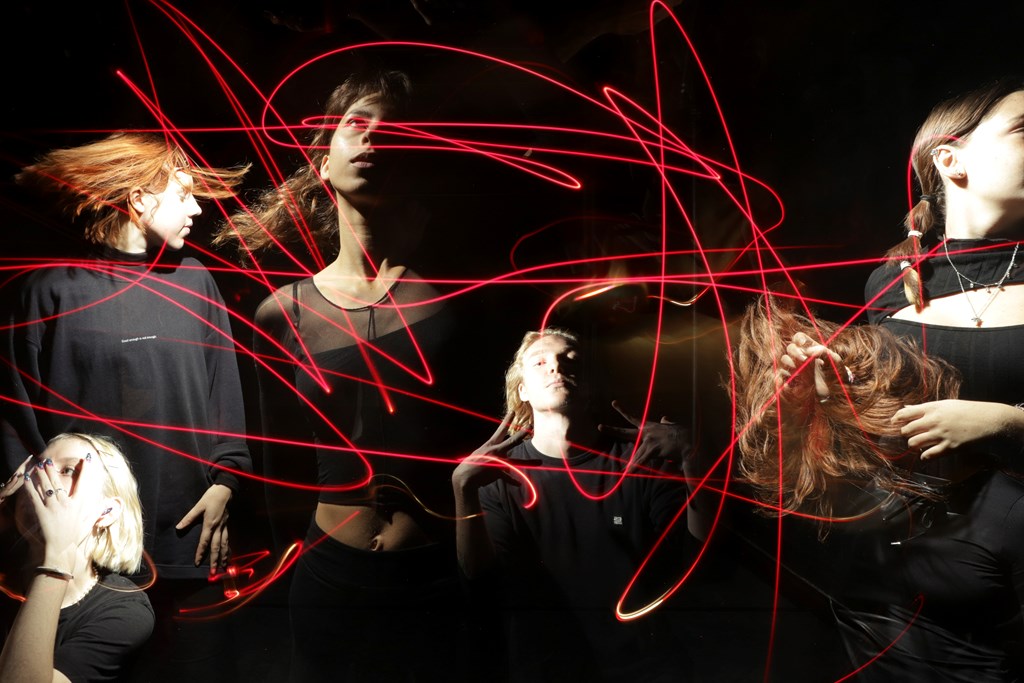 About
There comes a day, there comes a year, there comes a spider is a performance by seven young creators. It addresses the themes of social norms regarding gender and how these influence the subconscious of the individual. Everyone has the choice of becoming a puppet or a rebel, a prisoner of one's own thoughts or a reject of society. Regardless of the fast development of the post-modern society, we all still have experiences and fears, convictions and expectations embedded within us. Free expression is still not a thing of the community when the eyes of authority stare at us.
Credits
Authors and performers: Lara Čabrian, Katjuša Golobič, Jon Lah, Lota Martinjak, Eva Omahen, Ela Potočnik, Patricija Sekelj
Original music by: Jon Lah
Mentorship: Vid Klemenc, Tatjana Peršuh
Movement consultant: Nina Pertot Weis
Technical supervision and light design: Grega Mohorčič
Technical support: Samo Dernovšek
Photography: Marijo Zupanov
Video: Borut Bučinel
Graphic design: Grupa Ee / Mina Fina, Ivian Kan Mujezinović
Executive production: Nastja Miheljak, Anja Pirnat
Production: Gledališče Glej
Gallery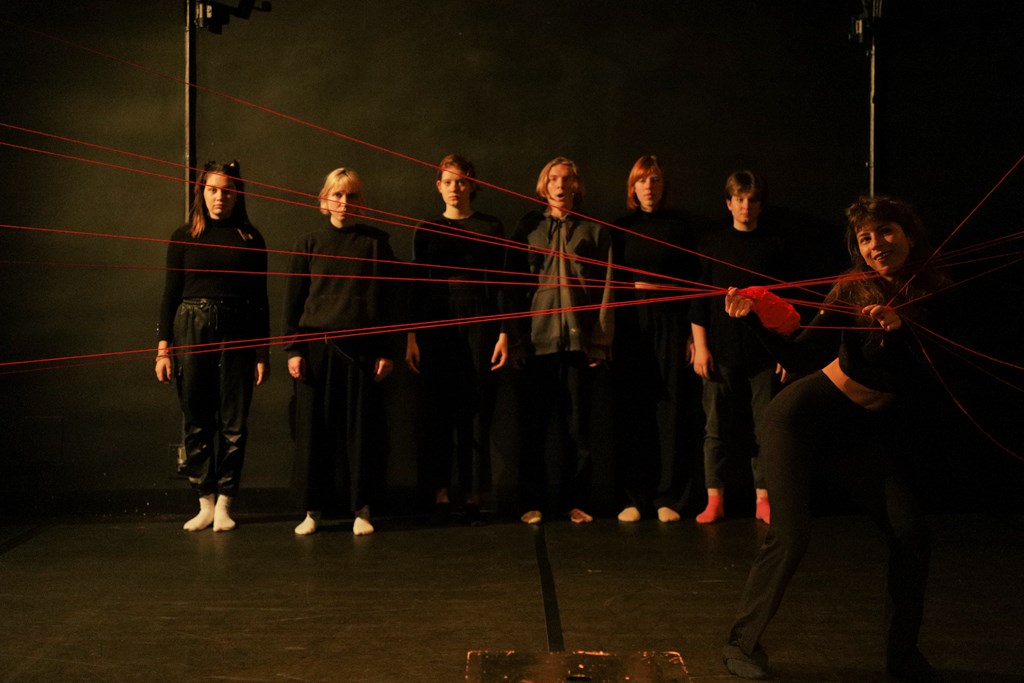 About
Future = NOW! A Youth Manifesto - FuN!
Online and offline hate speech, divisive public opinions, and conflicts in society are rising. Decisions are being made about our lives and yet, where is the voice of young generations in all of this? They are the voices of the future, that will mostly be theirs and yet they have little or no say about it.
Glej Theatre (Slovenia), Het Stichting Theaterschip (Netherlands) and NDM Ateliér (Czech Republic) have been active for many years in the field of working with youth in theatre, mostly focusing on producing youth performances and developing inclusive methodologies of working with them in theatre. With Future = NOW! A Youth Manifesto, a project co-funded by the European Union, Creative Europe Culture programme, we will work together with the young generation to form a cross section of art and activism about topics that are in the centre of their future concerns. We want to redefine forums of the 21st century through the help of artivism and performance arts practices, engage the audience in site specific action and start discussion through the help of participatory practices. 
The project Future = NOW! urges all of us to really connect, not only on a local and national level, but also transnationally and cross-sectorally. Project is focusing on gender, environmental crisis and self-care. Throughout the project we will build youthmanifestos that will be based on thorough research, local manifestos presentations, local conferences and festivals, as well as international co-productions, development of online methodologies and digital guidebooks and film to share our knowledge after the end of the project. 
In short: this is a FuN way to tackle today's most vibrant social issues of the future. With the young, by the young, for the young.
This project has been co-funded with support from the European Commission, Creative Europe programme.
This communication reflects the views only of the author, and the Commission cannot be held responsible for any use which may be made of the information contained therein.