documentary performance / Mark Požlep, Maxime Berthou, Davis Freeman
Premiere
12. May 2022 /Gledališče Glej /
premiera / Glej, in English / performans je v angleščini s  slovenskim prevodom
Gallery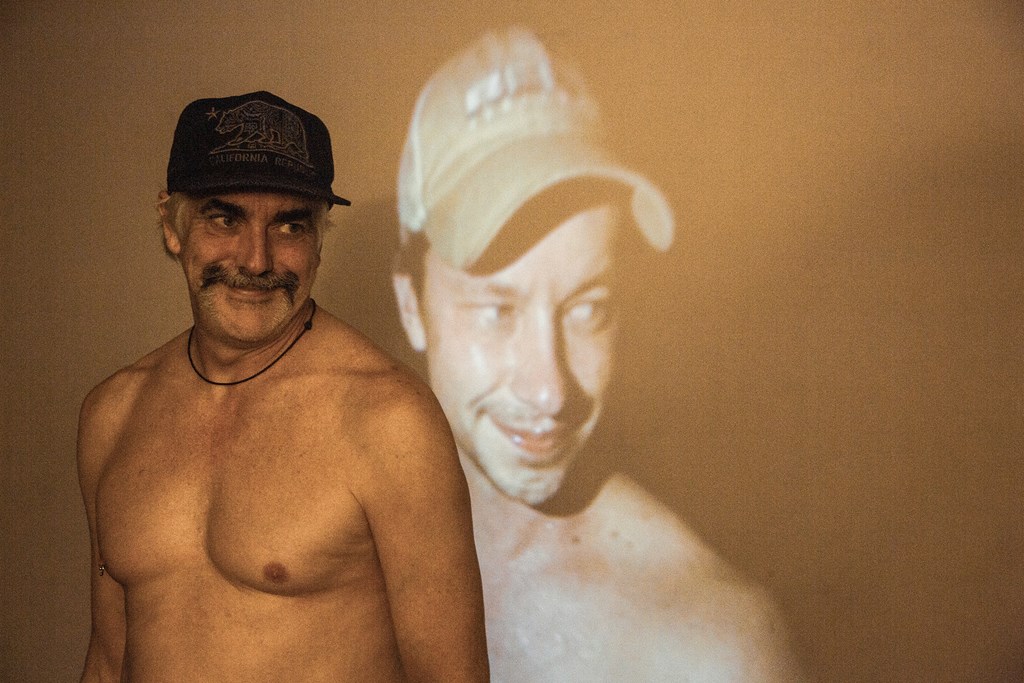 About the Performance
A steamer built from scratch, all 3,730 kilometres of the Mississippi river and two European artists in the heart of the United States. In a cinematographical essay Maxime Berthou and Mark Požlep are taking us along on the two-month journey along the mythical river they took in 2019. We see the people they met and the brutal nature of everyday life in the towns along the Mississippi. Communities ravaged by poverty, bad health caused by toxic industrial pollution, and racial inequality. But we also witness the strength of individuals trying to give meaning to their lives for others. 
The essay is supplemented by a live performance by American actor Davis Freeman. With the essay Mark and Max propose to the audience their view of the Mississippi river and portrait of the US, with the performance they give the voice back to the other side as a right to reply. Around a bottle of Moonshine, Davis Freeman challenges their observations by reversing the gaze: "You came to expose us, now it's our turn to expose you!"
Credits
Southwind Project Authors: Mark Požlep, Maxime Berthou
Performer: Davis Freeman
Dramaturgy: Mark Požlep, Maxime Berthou, Davis Freeman
Dramaturgy Support: Grzegorz Reske, Marta Keil 
Light Design: Grega Mohorčič
Sound Design: Gašper Piano
Scenography and Costumography: Mark Požlep, Maxime Berthou, Davis Freeman
Technical Supervision: Grega Mohorčič
Technical Support: Brina Ivanetič, Žan Rantaša, Klemen Švikart 
Residency Support: InSzPer - Performing Arts Institute, Nau Ivanow, HISK, Javni sklad za kulturne dejavnosti
Project was part of the Crushing Borders programme.  
Graphic Design: Grupa Ee / Mina Fina, Ivian Kan Mujezinović
Glej, Paper Editor: Tery Žeželj
Photography: Mark Požlep
Public Relations: Tjaša Pureber 
Executive Production: Barbara Poček
Produced by Glej Theatre
Co-Production: SPRING Utrecht, Forceps Media
Supported by: Ministry of Culture, Municipality of Ljubljana
More about the Southwind project
SOUTHWIND follows the chronology of the project in movement, translating it into an archive of personal experiences, oral histories, transcripts, and disproportionate production mechanisms. Practice-based research builds on a unique artistic methodology of durational performance that Požlep and Berthou has been developing for almost a decade - building from adventures as forms of durational performances, and turning them into different mediums, from visual to cinematographic and performative arts. More information about the project.  
Guest Performances and Festivals
SPRING Utrecht, May 19 and 20, 2022. Utrecht, Netherlands.