Glej, Boundary Crossing
We have started pilot theatre project, connecting three European cities: Utrecht, Istanbul and Ljubljana. Through it Glej Theatre is entering into partnership with two renowned universities and emerging young artists on the field of performing arts. Due to epidemic most of its programme will happen online, and yet with it we are proving we can still think beyond our national borders when it comes to theatre. Regardless of the circumstances.More information.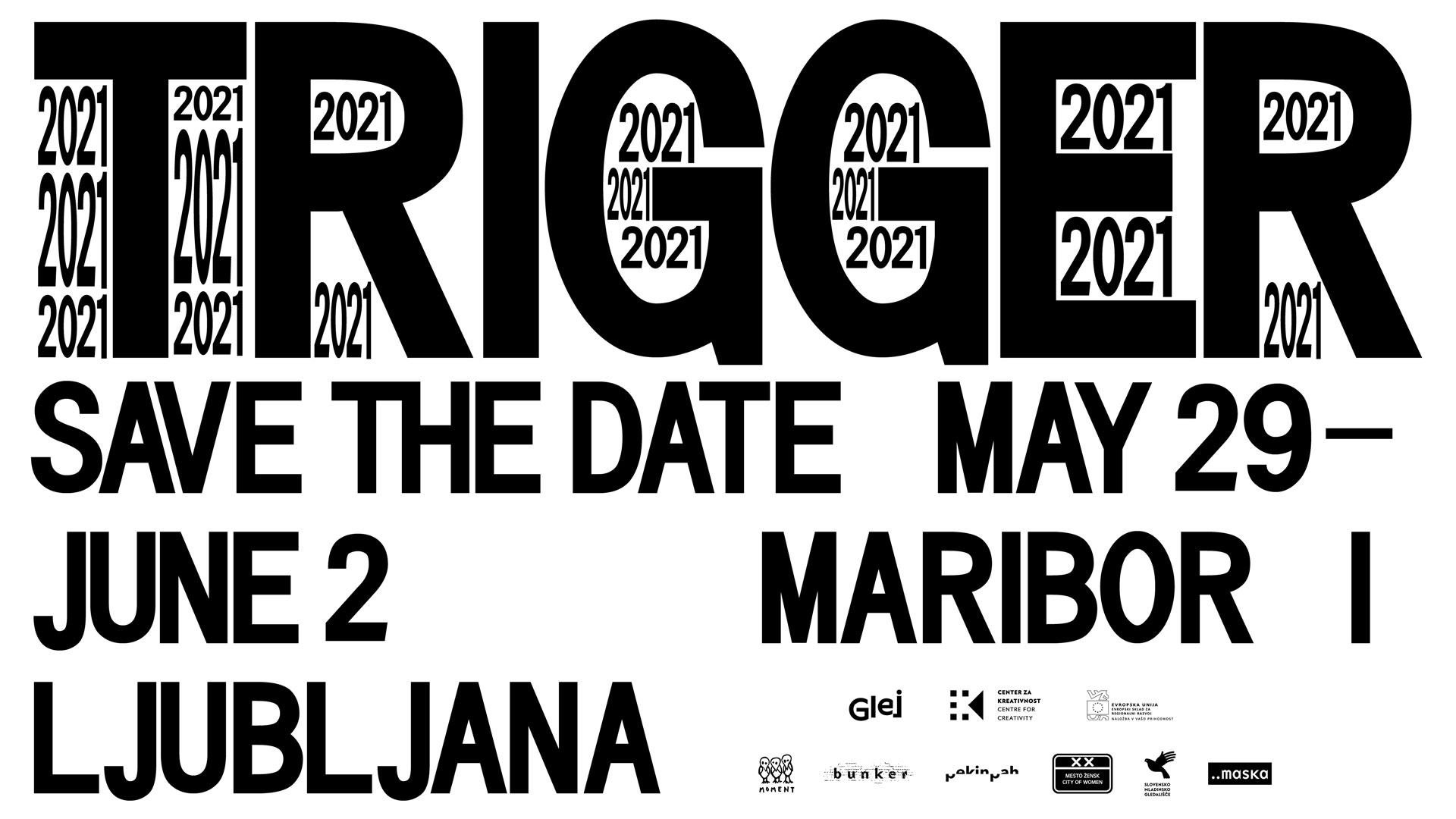 Save the date: TRIGGER 2021
TRIGGER is a platform for internationalization of contemporary independent performing arts. We are organizing TRIGGER 2021 in partnership with Bunker, Moment, Pekinpah, City of Women, Mladinsko Theatre (Nova pošta programme), Zavod Maska and in co-production with Center for Creativity. We are developing part of the programme in collaboration with Prestopi Festival, Reshape network and ONDA agency - (The French office for contemporary performing arts circulation) with their series Parkur, which enables French programmers to explore new performance contexts in different countries. This year's TRIGGER showcase will happen in Ljubljana and Maribor between May 29 and June 1.  
TRIGGER 2021 is opening the question of the future of international collaboration and artistic distribution under new circumstances, brought about by health, ecological and social crisis. We will particularly focus on the challenges of decentralization, both in national and international context. 
Detailed programme will follow soon. More information. 
TRIGGER 2021 is a part of a partnership network Platform Center for Creativity. Platform Center for Creativity is co-financed by European Union from European Regional Development Fund and by Republic of Slovenia. TRIGGER platform is also supported by the Ministry of Public Administration, Ministry of Culture and Municipality of Ljubljana.
In memoriam: Nevenka Koprivšek
We were immeasurably saddened to learn of the demise of Nevenka Koprivšek, one of Glej's most important artistic directors and extraordinary creator.
In 1989, Nevenka was the first woman to accept the role of Glej's artistic director. The very next year, she began to internationalize Glej with the performance You the city. And it was this international, progressive outlook that made her leadership stand out amid turbulent times of the dissolution of Yugoslavia and the rise of nationalism. In this same year, she directed her first performance Rail information, that went on to achieve high praise and an award for extraordinary achievement from Slovenia's main theatre festival Borštnikovo srečanje. She returned to the position of Glej theatre's artistic director in the 1996/97 season and then went on to found Bunker institute, wherein she focused on the development of Slovenian contemporary theatre, founded the referential Mladi Levi festival and opened up an entirely new venue - Stara mestna elektrarna.
Nevenka was the first truly independent producer in Slovenia. The original, to which we still all compare. She nestled whole generations of breakthrough artists and brought the very finest fragments of world theatre to whole generations of local theatre goers. And it was the world she was a citizen of. The loss of her is not only our loss, she lived in time, everywhere at once, she followed, co-created and branded the world performing arts scene. Whenever we met colleagues abroad and told them we were from Slovenia, they would go: "Ah, yes, Slovenia, Nevenka."
Her mark on the performing arts is invaluable. During her long, fruitful career, she opened numerous doors to a great number of young artists, affixed Slovenia's alternative theatre production firmly onto the international map and built opportunities for the development of NGOs in the cultural field. She discovered and uncovered new performance spaces, fought for the rights of creators and cultural workers and weaved her own brand of artistic expression, opening up new worlds of possibilities. She always stood up for the right issues, always firmly on the side of the less privileged.
She was our confidante, mentor, friend, fellow traveller and an inspiration. Her courage and strength were also a strong foundation for further works of all female artists and cultural workers. We are fully aware that she was one of the giants, whose shoulders we stand on.
Without her, Glej theatre would not be what and where it is today. Her loss leaves us all at a tremendous abyss.
Thank you for Glej, for Bunker and for your and our contemporary theatre, Nena.
Inga Remeta, Barbara Poček, Anja Pirnat, Jure Novak, Tjaša Pureber (Artistic Council of Glej Theatre)
Glej, in English
We have performances either in English or subtitled in English on monthly basis. Follow our webpage and get your tickets at rezervacije@glej.si.