workshop
Gallery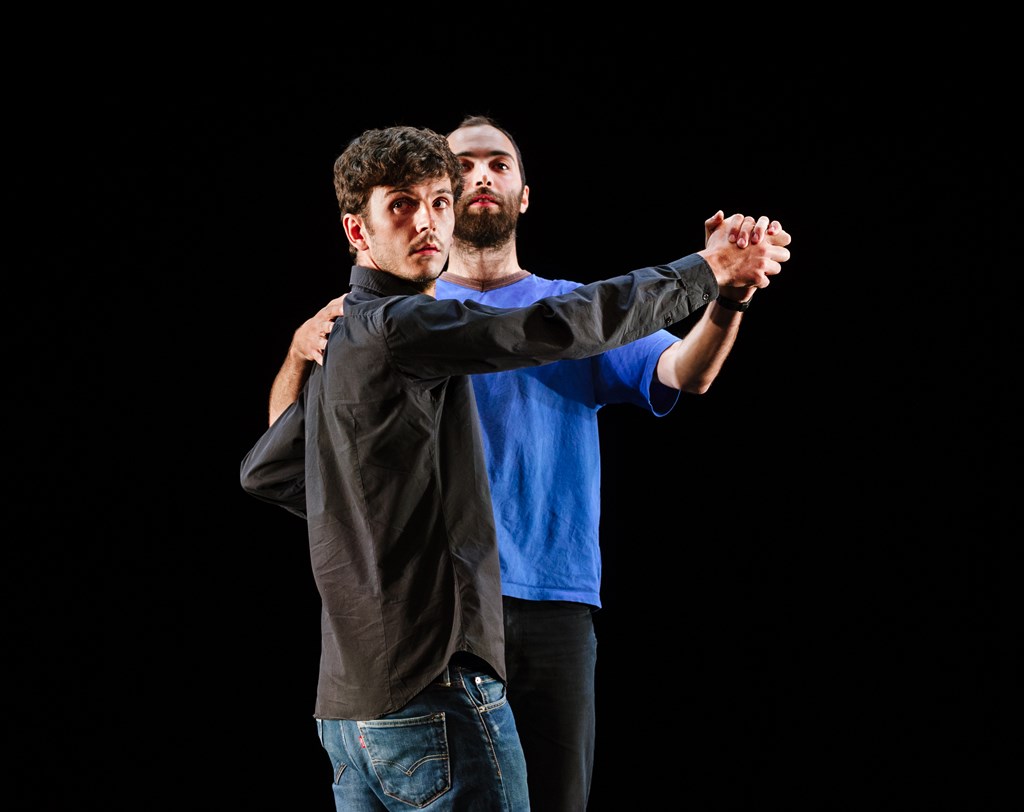 Bertrand Lesca and Nasi Voutsas are the receivers of last year's Forced Entertainment Award and beloved by the festival audiences worldwide. Their artistic expression can be summed into "Political is personal and personal is political." War in Syria, global ecological catastrophe, migrations within the Fortress Europe. There is no conflict big enough not to be able to be transformed into a struggle between two performers. Bertrand and Nasi address divisions, love, frustration, hatred and reconciliation with humor. On the stage, we can see all the paradoxes of political crisis that we are living, as they ask us how we can overcome them. They are known as one of the most exciting performers of their generation in Europe, who are redefining what political theatre means. 
We are happy that we are bringing them to Ljubljana and Maribor within our TRIGGER international platform. TRIGGER is developed in partnership with Moment, Bunker, City of Women, Pekinpah, Mladinsko Theatre and Maska (The New Post Office programme) and in co-production with Centre for Creativity. 
About the workshop
Workshop around performances PALMYRA & ONE by Bertrand Lesca and Nasi Voutsas.

Total Theatre Award And Forced Entertainement Award winners Bertrand Lesca and Nasi Voutsas, creators and performers of EUROHOUSE, PALMYRA and ONE, have developed a strong reputation in the UK for making original political theatre.
In this practical workshop based on their own practice, Bert and Nasi explore ideas around disagreement, frustration, hatred and reconciliation – particularly as these relate to contemporary society – using the stage as a space for artistic and political negotiation. How do we prioritise simplicity when talking about very complex matters? How do you inject feeling into facts?
There will be some discussions, some improvisation and some loud music (probably ABBA). All with a view to giving an insight in how Bertrand and Nasi make their work.
Objective/s
Understanding how to make a 

political

situation live in a 

room

between 2 or 3 people.

Making use of metaphors in order to make the situation you are exploring more understandable.

Each group will be asked to present in turn the result of their research.
Outline of exercises
Using strenuous physical exercises as a way of embodying a 

political

struggle or injustice.

Finding the clowns for each situation played. (e.g: who is the oppressed - who is the oppressor).

Creating contrasts on stage and between two people. Drawing on from that, creating a conflict in
the 

room

.

Once the conflict is found, making the audience feel complicit and take an active part.
About the mentors
Bertrand Lesca and Nasi Voutsas (France/UK) are the creators of a trilogy of work on contemporary questions: EUROHOUSE (2016), PALMYRA (2017) and ONE (2019). 
Bertrand Lesca and Nasi Voutsas have developed a strong reputation worldwide for making original, political theatre. Creating work in an age of austerity, and about austerity, our work is stripped right back and sits somewhere between live art and theatre. Using humour and the dynamics of our onstage relationship, we undercut and explore the darker aspects of contemporary subjects in work that questions both our own – and the audience's – role as 'active' spectators in global conflicts. Some of our core principles involve: being aggressively simple, a strong sense of humour and play, an aim to push, provoke, search, excite and incite; never being boring without being thrilling; never being thrilling for the sake of a thrill; everything understood and everything mapped out.
This trilogy of work tackles complex political or social questions – Greece's relationship with the EU; the Syrian crisis; the rise of the ultra right – into an accessible, immediate form. Using humour and the dynamics of their onstage relationship, Bert and Nasi undercut and explore the darker aspects of contemporary subjects in work questions both their own – and the audience's – role as 'active' spectators in global conflicts. 
More recently, Bert and Nasi presented THE END, a dance piece exploring the breakdown of their own working relationship set against the backdrop of an imminent climate catastrophe. 
Produced by Farnham Maltings and associate artists with MAYK, their shows have been presented across the world, from London to Madrid, Berlin to Sarajevo, Brazil, Canada and Australia and the US. 
In the media
Essential Drama: Bertrand and Nasi.  
How to apply for the workshop
Workshop in Ljubljana will be in English on September 6, 2021 from 10AM to 1PM. Fee is 30 Euros. You can apply until September 1, 2021 on this link. 
TRIGGER 2021 is a part of a partnership network Platform Center for Creativity. Platform Center for Creativity is co-financed by European Union from European Regional Development Fund and by Republic of Slovenia.

TRIGGER platform is also supported by Ministry of Public Administration, Ministry of Culture and Municipality of Ljubljana.